r. arl . . huker
ooks
Extraordinary Animals Revisited: From Singing Dogs To Serpent Kings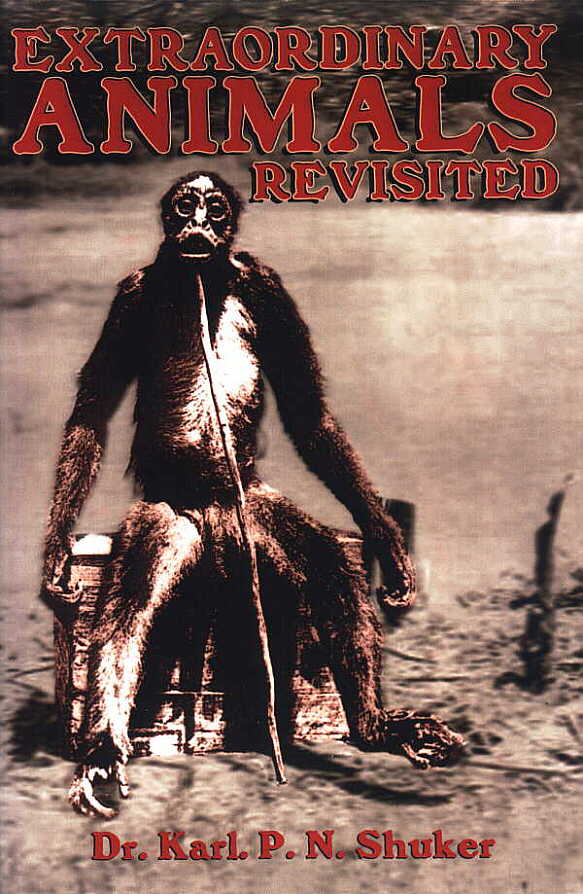 Extraordinary Animals Revisited (CFZ Press: Bideford, 2007); ISBN 1-905723-17-1. With a foreword by Jonathan Downes, Director of the Centre for Fortean Zoology. Large-format pb, 313 pp, illustrated throughout, refs, index. UK £14.99.
Available from Amazon.com and Amazon.co.uk , and directly from the publisher in quantities, online at: www.cfz.org.uk.
For an exclusive interview with Dr Shuker concerning this book, conducted by fellow cryptozoologist/mysteries investigator Nick Redfern, please click here.
This delightful book is the long-awaited, greatly-expanded new edition of one of Dr Karl Shuker's much-loved early volumes, Extraordinary Animals Worldwide. It is a fascinating celebration of what used to be called romantic natural history, examining a dazzling diversity of animal anomalies, creatures of cryptozoology, and all manner of other thought-provoking zoological revelations and continuing controversies down through the ages of wildlife discovery.
Handsomely supplemented by a vista of enchanting Victorian engravings to evoke the spirit of the period from which the inspiration for this book is drawn, Extraordinary Animals Revisited offers an enthralling introduction to a veritable menagerie of truly astonishing beasts:
From singing dogs to serpent kings, pseudo-plesiosaurs to quasi-octopuses, hounds with two noses and birds with four wings, the Sandwell Valleygator and New Mexico's medicine wolf, cobras that crow and snake gods that dance, giant solifugids and rodent colossi, devil-birds and devil-pigs, furry woodpeckers and marsupial hummingbirds, archangel feathers and the scales of the Eden serpent, scorpion-stones and elephant-pearls, tales of the peacock's tail, parachuting palm civets, missing megapodes, blue rhinoceroses, glutinous globsters, anomalous aardvarks, a platypus from Colorado, man-sized spiders from the Congo, de Loys's lost Venezuelan ape, Margate's marine elephant, a flying hedgehog called Tizzie-Wizzie, a mellifluous mollusc called Molly, India's once (and future?) pink-headed duck, the squeaking deathshead, the vanquished bird-god of New Caledonia, and much much more – all waiting to amaze and amuse, a pageant of natural and unnatural history.
"Karl and I - I think - were born about a hundred years too late. We should have been active during the heyday of Victorian natural history, rather than in the cold, grey days of the end-years of the 20th Century, and the grave new world of the 21st. This book confirms my thesis completely. For it is a 21st Century analogue of one of those glorious Victorian books of natural history containing a miscellany of apparently disparate facts and figures about the intricacies of God's creation, which nevertheless mesh together into a seamless and intriguing whole. I love this book. It does exactly 'what it says on the tin', describing some truly extraordinary animals, mostly cryptozoological, but sometimes not. My favourite chapter is actually not a cryptozoological one; the chapter on solifugids - gloriously bizarre invertebrates that I have always wanted to keep...One of the things that has always impressed me about Dr Shuker's research is the way that he unearths obscurities that nobody else has ever heard of. In this way he is like a truffle hound on some bucolic French farm, working away with dogged determination until he finally manages to uncover a rare and valuable nugget of information, and not resting until he has placed it firmly within the public domain. It is truly a wild talent (as Charlie Fort would no doubt have put it), and one which I sincerely hope that he continues to utilise for the rest of his professional life."
Jonathan Downes, quoted from his foreword to this book.

"Kudos to all involved in bringing this classic text back into print--and to Dr Shuker for substantially updating it. Any reader interested in wildlife, animal anomalies, and/or cryptozoology will want a copy of this volume in his-or-her personal library. Worth twice the price, and then some."
Michael D. Newton (author of The Encyclopedia of Cryptozoology), Amazon.com review, 16 September 2007.

"Fuelling the imagination to the most captivating degree, Extraordinary Animals Revisited is a compelling, thought-provoking and hugely enjoyable guide to some of the most unusual animals ever documented...A wonderful book."
Beyond Magazine, January 2008.

"Beautifully illustrated with period etchings, engravings and woodcuts, nothing like Extraordinary Animals has been seen since the early 1900s...This parade of zoological oddities is a must for every Fortean and antiquarian. A joy to read and a genuine breath of fresh air in a field now dominated by dry academia that sucks away that lifeblood of zoology."
Richard Freeman, Animals and Men, August 2008.

"Extraordinary Animals was first published in 1991, and set the tone for Shuker's subsequent oeuvre, in that it was challenging, authoritative, witty and fascinating. Revisited has been revived and greatly expanded with even more astonishing animals and animal behaviour...Immaculately researched, referenced and indexed, Shuker is not only fun to read - he can convince you of anything."
Richard Holland, Paranormal, October 2008.

"Extraordinary Animals Revisited is a truly fascinating celebration examining a dazzling array of strange creatures, animals of cryptozoology and zoological anomalies, many of which have remained controversial down through the years."
Trevor Beer, Western Morning News, 13 January 2009.

"If you want to give a budding zoologist an inspirational anthology - one that will make a lasting impression by stimulating an innate sense of wonder as well as latent scientific curiosity - you could do no better than make a present of Extraordinary Animals Revisited."
Bob Rickard, Fortean Times, March 2009.

"I tried hard to read this one slowly, savoring it. I do love this guy's books. Extraordinary Animals Revisited is an updated edition of Dr. Shuker's 1991 book Extraordinary Animals Worldwide. Shuker is a zoologist with a strong interest in cryptozoology--the study of animals that may or may not actually exist, or which are poorly understood, thought to be extinct, or which show up in places far from their known habitats, etc. It's a fascinating field and Shuker ranges widely, discussing the legends surrounding the deathshead hawk moth in one chapter, exploring the possible real-life birds that were inspiration for the phoenix myth, covering the types of unknown canids reported all over the world, and examining extinct birds that might not necessarily be extinct after all. It's endlessly fascinating, full of details and anecdotes. I eat this stuff up...I appreciate that Shuker doesn't focus on the old crytozoological standbys, like the Loch Ness Monster and the Yeti. Like his other books (this is the third of his that I've read), he digs a little deeper than most writers to find the overlooked and obscure. The book has an extensive bibliography and recommended reading section as well as an index. Oh, and there's even a chapter on hoaxes. If you're interested in animals and the mysteries of the natural world, but you're sick of poorly researched articles on Bigfoot, you really need to read Shuker's books."
Kate C. Shaw, Skunk Cat Book Reviews blog, 19 February 2010.
| Books | The Beasts That Hide From Man | Extraordinary Animals Revisited | Dr Shuker's Casebook |
| Home | Biography | Books | Media | CZ Bibliography | Sightings | Links |
---
Copyright © 1998 Dr. Karl P.N. Shuker

Web Design: Scott T. Norman