r. arl . . huker
ooks
The Beasts That Hide From Man: Seeking the World's Last Undiscovered Animals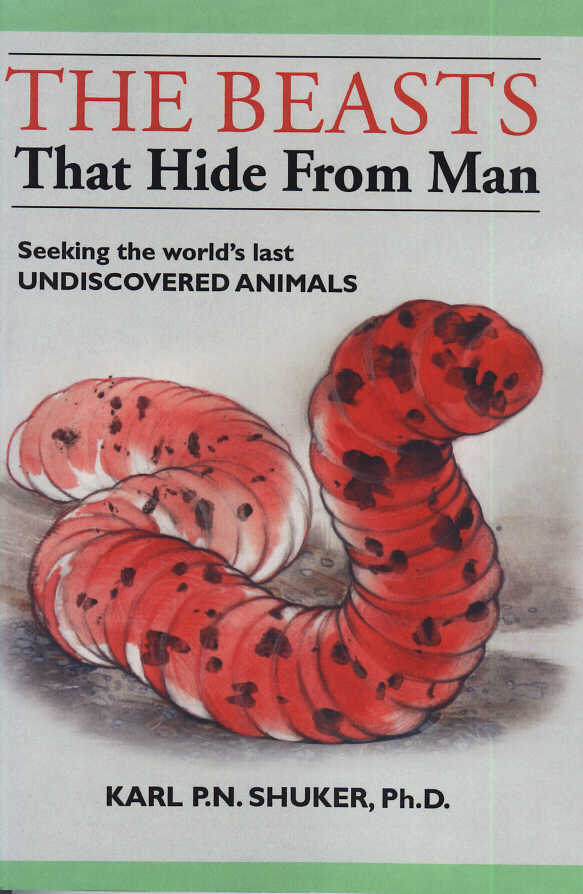 The Beasts That Hide From Man: Seeking the World's Last Undiscovered Animals (Paraview Press: New York, 2003); ISBN 1-931044-64-3. Large-format pb, 323 pp, b/w pics, refs, index. USA $17.75; UK £11.99. Available from all good bookshops (in the UK, it can be ordered from any bookshop that orders their books through Bertrams), from Amazon.com and Amazon.co.uk , and directly from the publisher in quantities, online at: www.paraview.com.
A hardback edition, retitled The Search For the World's Last Undiscovered Animals, was published in 2007 by Fall River Press (New York; ISBN 1-4351-0131-6).
A digital wireless Kindle edition is available exclusively via Amazon.com.
Cryptozoology - the scientific study of hidden animals - is gaining ever more attention, thanks to a startling number of major zoological discoveries and rediscoveries in recent years. Leading zoologist and cryptozoologist Dr Karl P.N. Shuker has collected extensive evidence for a wide range of these mysterious animals in The Beasts That Hide From Man. He provides entertaining but solidly researched accounts about such extraordinary creatures as:
The dobhar-chú, Ireland's murderous master otter
Mongolia's lethal death worm, which reportedly kills its victims by electrocution (this book's 50-page illustrated account of the death worm is the most detailed ever published in book form)
The blood-drinking 'death bird' of Ethiopia's Devil's Cave
The tzuchinoko, a bizarre Japanese snake with a triangular-sectioned body and a bounty on its horned head
Sea serpents from around the world
Hairy reptiles, furry fishes, living unicorns, man-eating plants, mimic dogs, tatzelworms, giant birds, stuffed dragons, mystery cats, and lots more
Dr Shuker also includes an extensive, long-awaited, 52-page supplement to Dr Bernard Heuvelmans's original checklist of cryptozoological animals (published in 1986), which contains a vast fund of updated information on unknown creatures across the entire zoological spectrum.
"A noteworthy and very welcome addition to the world of monster hunting and the creatures that continue to live alongside us in relative secrecy and obscurity. A scientific fellow of the Zoological Society of London, Shuker is the author of numerous books on wildlife oddities and unknown animals and his latest book never disappoints...Shuker's book is a first-class look at some of the real and sometimes monstrous oddities that live among us."
Nick Redfern, Phenomena, May/June 2004.

"I shall begin with those familiar words: "The publication of any new book by Karl Shuker is cause for great excitement in the cryptozoological community". Tip o' the hat, Shuker has obtained very obscure information on very obscure cryptids from very obscure publications...a fascinating bestiary it is, with chapters on the Mongolian death worm, crypto-bats, hairy fish, the sea cows of St Helena, the Chinese ink monkey, and much more."
Darren Naish, Fortean Times, January 2005.

"The book is a real pleasure to read and Karl's writing is both informative and entertaining. Like a lot of Karl's work it has the feeling of the Victorian naturalist about its style. I know of at least one total newcomer to the field that was totally entranced by this book. With not a dull line in it, The Beasts That Hide From Man is a fine edition to the ever-growing Shuker crypto-library. Hope we don't have to wait too long for his next book."
Richard Freeman, the CFZ, Animals and Men, August 2005.

"Readers will find this book useful, insightful, and an entertaining read...it provides a scholarly, reader-friendly format of various cryptids not often addressed in other sources. The material is thought provoking and well researched...[and] is designed for avid and serious zoologists, cryptozoologists, and anthropologists."
Mark K. Bayless, Quarterly Review of Biology, September 2005.

"Dr Karl Shuker is one of the world's best-known "cryptozoologists"...and has written ten books on "mysterious events" and unknown animals, always from a rational, learned, and scientific perspective, which are to be recommended to anyone with an interest in the subject. The title of The Beasts That Hide From Man is instructive, for it reminds us that any unknown animal species is almost certainly hiding from us because they are afraid of humans, with good reason, not the other way round."
Prof. William D. Rubinstein (University of Wales), http://www.socialaffairsunit.org.uk/blog/, 12 June 2008.

"Cryptozoology - the study of hidden animals - is gaining attention thanks to a startling number of zoological discoveries. Karl P.N. Shuker has collected evidence of these mysterious, somewhat mythical creatures in The Beasts That Hide From Man. Shuker provides entertaining, solidly researched tales about extraordinary animals. Shuker also provides a supplement to Bernard Heuvelmans's checklist of cryptozoological animals, which contains updated information on unknown creatures."
Editorial review, Amazon.com
| Books | The New Zoo | The Beasts That Hide From Man | Extraordinary Animals Revisited |
| Home | Biography | Books | Media | CZ Bibliography | Sightings | Links |
---
Copyright © 1998 Dr. Karl P.N. Shuker

Web Design: Scott T. Norman