r. arl . . huker
ooks
Dr Shuker's Casebook: In Pursuit of Marvels and Mysteries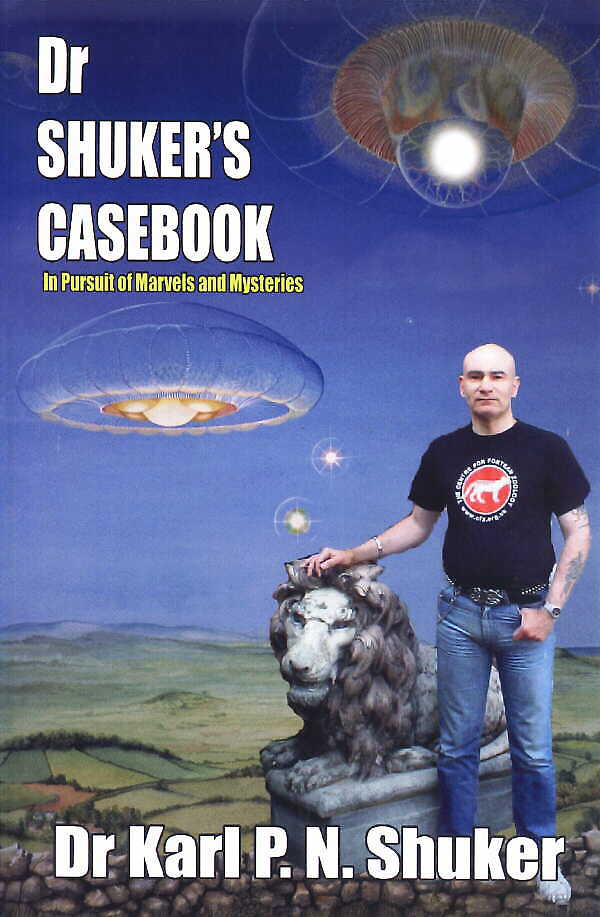 Dr Shuker's Casebook (CFZ Press: Bideford, 2008); ISBN 978-1-905723-33-1. With a foreword by Nick Redfern. Large-format pb, 312 pp, illustrated throughout, refs, index. UK £14.99.
Available from Amazon.com , from Amazon.co.uk , and directly from the publisher in quantities at: www.cfz.org.uk.
For an exclusive interview with Dr Shuker concerning this book, conducted by fellow cryptozoologist/mysteries investigator Nick Redfern, please click here
Although he is best-known for his extensive cryptozoological researches and publications, Dr Karl Shuker has also investigated a very diverse range of other anomalies and unexplained phenomena, both in the literature and in the field.
Travelling the world in search of mysteries and marvels of every kind, Dr Shuker has climbed the volcanic slopes of Easter Island on the trail of moai and man-birds, he has traversed the Theban necropolis of Egypt's West Bank in search of a singing Colossus and the head of Ozymandias, he has journeyed to Woolpit in the footsteps of its mystifying Green Children, and to Niagara on the lookout for its long-lost winged cat. Whether it be flying over the Bermuda Triangle (four times!), inspecting cropfield circles in Buckinghamshire, questing for mermaids and unicorns, gazing in awe at a putative living dinosaur emblazoned upon the magnificent Ishtar Gate of Babylon's King Nebuchadnezzar, revealing a bizarre yet hitherto-undocumented bat-winged monster encountered in the heartland of Kent, uncovering an anachronistic Cambodian stegosaur at Angkor Wat, peering in hope across the dark waters of Loch Ness and the monster-haunted lakes of Iceland, seeking resurrected avifauna in New Zealand, finding solace in the stark majesty of Stonehenge and the holy grandeur of Lourdes, charting the preternatural entities of Senegambia's forests or Australia's Dreamtime, tracking elusive black panthers on Exmoor, or unmasking serpent-necked panthers on an enigmatic artefact from the ancient Middle East, if there are mysteries to be investigated, Dr Shuker is in hot pursuit.
Now, compiled here for the very first time, are some of the extraordinary cases that he has re-examined or personally explored down through the years - from sky beasts and reptoids, statues that weep, bleed, and even come to life, vanishing planets and invisible saints, frog rain and angel hair, and the world's weirdest ghosts and aliens, to a chiming tower of porcelain and a talking head of brass, spooklights and foo fighters, Herne the Hunter and photographed thought-forms, the chirping pyramid of Quetzalcoatl, magical mirrii dogs Down Under, unicorns of every conceivable (and inconceivable!) shape, size, and locality, plus the most comprehensive study ever published of winged cats in which he successfully unveils their long-debated cryptic identity. All of that, and much more, await you inside this arcane archive of inexplicabilia, dubitanda, and mirabilia – or, as we prefer to call it, Dr Shuker's Casebook.
"Whereas pretty much everything Karl has published so far has been on cryptozoology and weird and wonderful animals, Dr Shuker's Casebook is a little different. Yes, it is full to the brim with tales of strange beasts; however, Karl also delves into other areas of Forteana with which he is not generally associated. This, however, is a very good thing, since we get to learn about a variety of other mysteries that are of interest to Karl. And, indeed, there are enough of them to fill Birmingham's glorious Rotunda and Bull-Ring several times over!...In other words, Dr Shuker's Casebook is a fantastic and rich collection of oddities that will fascinate everyone with a thing for Forteana. And now, turn the page, turn off the lights and by the flicker of an old candle and a full moon, enjoy the book!"
Nick Redfern, quoted from his foreword to this book.

"Dr Shuker has become Britain's best-known cryptozoologist, his many books and articles - including those in Paranormal - on mystery beasts has earned him a loyal following. The Casebook continues a series of collections of previously printed articles from disparate sources but what sets it apart is that in this volume Dr Shuker casts his keen eye over paranormal subjects beyond the realm of cryptozoology...Dr Shuker's Casebook offers over 300 pages packed with paranormal goodness, all presented with the author's trademark blend of enthusiasm, imagination and scientific common sense."
Richard Holland, Paranormal, November 2008.

"He [Dr Shuker] tells of sky beasts, statues that weep, frog rain and angel hair, the world's weirdest ghosts and aliens. Herne the Hunter is here along with the chirping pyramid of Quetzalcoatl, magical mirrii dogs and the amazing winged cats which Karl successfully explains, unveiling their long debated cryptic identity for £12.99. Discuss the weird and wonderful of this world with friends and family, and enjoy."
Trevor Beer, Western Morning News, 13 January 2009.

"Dr Shuker's Casebook is an eclectic collection of fortean articles...considering he is primarily known as a cryptozoologist, Shuker's span is suitably fortean, and when dealing with tricky subjects such as materialisation during seances, mediaeval mysteries, or religious miracles, he is refreshingly balanced in his approach. Zoology is his touchstone in that he always looks for zoological possibilities in the data or the narratives and, as Fort advised, leaves open the matter of the unfathomable weirdness of Nature itself...an informative and fairly relaxed stride across territory familiar to many but which will capture the imaginations of new readers [and provides] glorious treasure troves from 20 years' study of fraudulent, out-of-place and disputed animals, humanoids and green children, materialisations and miracles."
Bob Rickard, Fortean Times, March 2009.

"For this compilation, English cryptozoologist Dr Karl Shuker explores not just weird and wonderful animals but ancient mysteries and strange phenomena from around the world...A must for fans of Forteana in all its forms."
Ruth Parnell, Nexus, August-September 2009.

"I just finished Dr Shuker's Casebook and loved it so much I just have to share. Karl P.N. Shuker is a zoologist whose interest in undiscovered, misplaced, mythical, and unusual animals led him to a career as a cryptozoologist. I own another of his books, The Search for the Last Undiscovered Animals (originally published as The Beasts that Hide from Man), and love it too...In this book, Shuker ranges away from his usual cryptozoological topics, although he does talk about mysterious animals and monsters too. The book is partly made up of updated and expanded articles he's had published in various journals, and is partly new writing. It's pretty clear that anything Shuker found interesting made its way into the text: flying men, merfolk, UFOs and USOs, rains of fish and frogs, ghosts, and all sorts of other topics. It makes for fascinating reading. What I love most about Shuker's writing is the way he presents possible solutions to mysteries. He doesn't have an axe to grind; he's certainly not a crank. He approaches the data as a scientist first and as an interested person second, which means he looks first for logical explanations and then suggests more fanciful theories--but he doesn't usually endorse any particular solution. He lets the reader draw conclusions. It's nice that he assumes his readers are as intelligent and thoughtful as he seems to be. I love also that he writes about lesser-known topics. I love well-written, well-researched books about mysterious phenomena, but a lot of the mysteries Shuker writes about are either new to me or ones I've seldom read about. Shuker's writing reminds me a lot of Willy Ley's cryptozoological essays from the mid-20th century, which is why I've shelved Shuker next to Ley in my library. I never thought I'd find anyone who could capture my imagination and intellect the way Ley does. Thank goodness Shuker has written a lot of books. I'm going to have to collect them all. "
Kate C. Shaw, Skunk Cat Book Reviews blog, 27 December 2009.
| Books | Extraordinary Animals Revisited | Dr Shuker's Casebook | Dinosaurs and Other Prehistoric Animals on Stamps |
| Home | Biography | Books | Media | CZ Bibliography | Sightings | Links |
---
Copyright © 1998 Dr. Karl P.N. Shuker

Web Design: Scott T. Norman