r. arl . . huker
ooks
The New Zoo: New and Rediscovered Animals of the Twentieth Century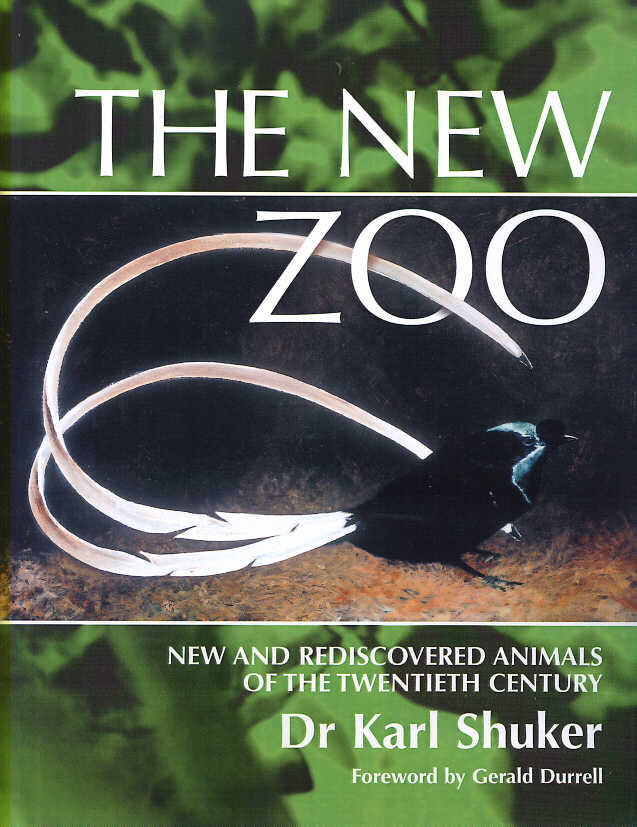 The New Zoo: New and Rediscovered Animals of the Twentieth Century (House of Stratus Ltd: Thirsk, UK/House of Stratus Inc: Poughkeepsie, USA, 2002); ISBN 1-84232-561-2 (UK). Large-format pb, 304 pp, preface by Dr Lee Durrell, foreword by the late Gerald Durrell, colour and b/w pics, refs, index. £20.00.
Available from Amazon.com
At the beginning of the 20th Century, scientists and laymen alike appear to have been peculiarly confident that the world had been thoroughly explored and most of its creatures named and documented. Few, if any, large animals still awaited discovery. The scientific unveiling of the giraffe-like okapi in 1901 was one of the earliest of this century's discoveries to shake this belief. But many consider it to be the last great find, and view the rediscovery of extinct animals to be as likely as the alchemic conversion of iron into gold.
Since 1901, however, a whole host of new and rediscovered creatures has turned up to contradict these views - including a giant 7-ft-long forest hog from Africa, a colossal Indonesian monitor lizard called the Komodo dragon, the lobe-finned coelacanth fish resurrected from 64 million years of supposed extinction, the incredible megamouth shark, deep-sea tube-dwelling worms over 8 feet tall with huge red tentacles resembling strange alien flowers, plus the extraordinary Vu Quang ox and giant barking deer both discovered in Vietnam during the 1990s. And discoveries continue to be made today - ranging diversely and dramatically from flesh-eating sponges and whistling tree kangaroos to bona fide dracula ants and mega-finned deepsea squids.
The New Zoo is a wholly-updated, greatly-expanded edition of the very first - and still the definitive - book to be devoted to the spectacular zoological discoveries and equally amazing rediscoveries of the 20th Century, which attracted international acclaim and exemplary reviews following its original publication in 1993 (when it was entitled The Lost Ark). This new edition also contains an exhaustive, significantly-increased bibliography, as well as the only comprehensive collection of colour and b/w illustrations of these spectacular animal species ever published (including many new, previously-unpublished photographs, and several exclusive, specially-commissioned full-colour paintings).
Unquestionably, The New Zoo provides good reason indeed for believing that our world continues to holds many more animal surprises in store for future revelation.
"I cannot understand why scientists on the whole look scornfully at the idea of some large unknown animal lurking in a lake or in the sea or on land. They don't believe it until they have a specimen - preferably dead - in thbeir hands. I believe everything is possible and those of you who read and relish this book as I have done will see why. With delighted anticipation, I await the discovery of a sea serpent or, better still, an Abomonable Snowman, and, if he proves too close to us in appearance for comfort, what do we do with him? Put him in a cage or send him to university? This fascinating, encouraging book should be part of every naturalist's library to give them hope that one day they themselves may make a wonderful discovery of a new species."
Gerald Durrell, quoted from his foreword to this book.

"Rereading the words of my late husband, Gerald Durrell, in the original foreword to The Lost Ark, I see that he was expounding on one of his favourite theories - if naturalists used their observational powers to the full, they would be rewarded with the most extraordinary surprises and insights about the natural world. Karl Shuker reminds us again in The New Zoo that diversity has not been fully explored or described even now by we who pride ourselves on our scientific and technological advances. Before becoming involved in conservation, I trained as a scientist, and Karl's last sentence strikes a deep chord within me: "A wise scientist does not take pride in how much he knows, but rather takes heed of how little he knows". The Lost Ark has become The New Zoo in only eight years, and the wise scientists have been busy. Karl has provided updates and reported discoveries for several hundred animal species by name and possibly even thousands by implication with the recognition of two, maybe three, new phyla of invertebrate. From their meticulous observational work, Gerry's and Karl's theories about the zoological pay-off have been borne out...As Karl points out, the discovery of new species is a good antidote to depressing news about the demise of others. This new edition is a joy to read. If it also strengthens its readers' lively interest in the natural world and inspires a commitment to grappling with the biodiversity crisis, then it will have fulfilled its purpose."
Dr Lee Durrell, quoted from her preface to this book.

"A revised edition of The Lost Ark, first published in 1993, including many new species and much new information."
BBC Wildlife Magazine, August 2002.

"Published in 1993, Karl Shuker's The Lost Ark was the book everyone involved in cryptozoological research had long been waiting for: a compendium of all major (and many not so major) zoological finds of the 20th century. Ten years down the line, a menagerie of new large mammals from Vietnam, hordes of new South American monkeys, new whales(!), and even a new species of coelacanth demonstrate not only that (as Heuvelmans said) "the great days of zoology are not done", but that an updated version of Shuker's book is a necessity. The New Zoo includes all of these new animals and more...the updates and pages of new text mean that The New Zoo is the substantial update we were promised...attractive and user-friendly. Many of the photos are new, as are many of the paintings...Shuker's writing, as always, is vibrant and euphonious and...the text is well supported by hundreds of references. Even those who know The Lost Ark inside-out will find this volume a must-have, and it should prove required reading for everyone interested in the history of zoological discovery, and in our perception of biodiversity."
Darren Naish, Fortean Times, January 2003.

"Remember Karl Shuker and his Lost Ark? Well he's back, and this time he's got a New Zoo! The Lost Ark was always my favorite of Karl's books, and also the one I refer to most for research. Now, the jewel in Dr Shuker's crown has had a timely makeover and reprint. The title The New Zoo is not as evocative as The Lost Ark but the book is just as good and has more colour pictures than its predecessor."
Richard Freeman, the CFZ, Animals and Men, Spring 2003.
| Books | The Hidden Powers of Animals | The New Zoo | The Beasts That Hide From Man |
| Home | Biography | Books | Media | CZ Bibliography | Sightings | Links |
---
Copyright © 1998 Dr. Karl P.N. Shuker

Web Design: Scott T. Norman