r. arl . . huker
ooks
Mystery Cats of the World Revisited - Blue Tigers, King Cheetahs, Black Cougars, Spotted Lions, and More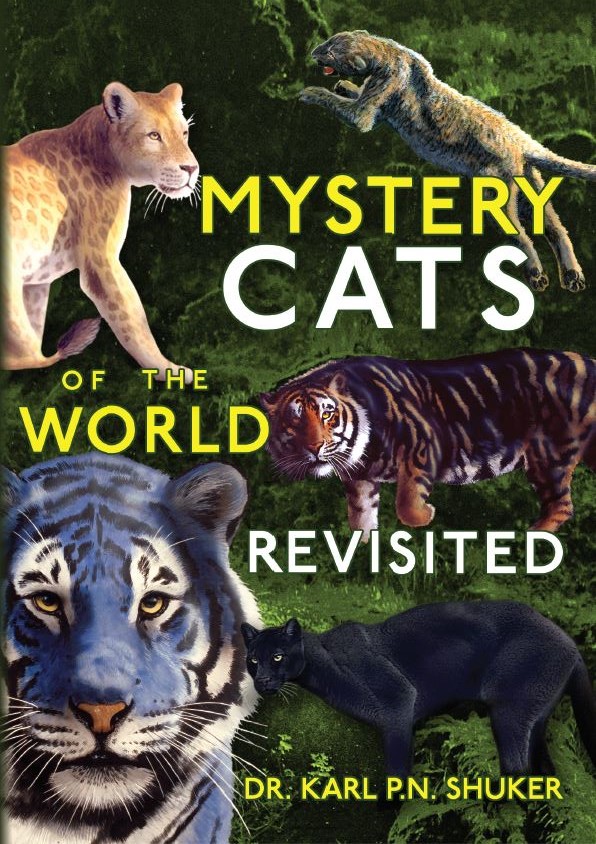 Mystery Cats of the World Revisited - Blue Tigers, King Cheetahs, Black Cougars, Spotted Lions, and More (Anomalist Books: San Antonio, 2020); ISBN 978-1-949501-17-9. Large pb, b/w pix, bibliography, index, 414 pp.




Available from all good bookstores, including Amazon UK and Amazon USA, and directly from the publisher in quantities at: Anomalist Books.



Mystery Cats of the World was Dr Shuker's very first book, but it swiftly became a classic addition to the cryptozoological literature, lauded by cryptozoologists and mainstream zoologists alike – not to mention a Nobel Prize-winning authoress by the name of Dame Doris Lessing – for what has been described as his scrupulously scientific, objective analysis of the numerous cases documented by him. Even today, it remains not only the undisputed definitive work on mystery cats but also the only one to survey the subject globally. Having been out of print for many years, this book has also become extremely sought-after and highly collectable – but now, three decades since its historic debut, Mystery Cats of the World has finally been republished, as an updated, greatly-expanded new edition aptly retitled Mystery Cats of the World Revisited.

For it not only investigates many new mystery cats but also revisits those previously featured in its 1989 version that in Dr Shuker's opinion remain cryptozoological today. Conversely, those that he no longer considers pertinent to the subject have been deleted or dramatically reduced in coverage in order to make way for the dazzling diversity of present-day feline enigmas requiring examination and discussion. Moreover, it also contains many new, rare illustrations, and a substantially enlarged bibliography, plus the truly spectacular front-cover artwork created by esteemed cryptozoological artist and longstanding friend William M. Rebsamen.

From blue tigers, water leopards, rainbow jaguars, king cheetahs, Transcaucasian daemon cats, and Sumatra's cigau, to spotted lions, black cougars, Mexico's onza, Madagascar's fitoaty, surviving sabre-tooths, feline mega-marsupials, and so much more – the book that set the standard for a whole new generation of cryptozoological writing is back!



| Books | This Cryptid World | Mystery Cats of the World Revisited | Secret Snakes and Serpent Surprises |
| Home | Biography | Books | Media | CZ Bibliography | Sightings | Links |
---
Copyright © 1998 Dr. Karl P.N. Shuker

Web Design: Scott T. Norman