r. arl . . huker
ooks
This Cryptid World - A Global Survey of Undiscovered Beasts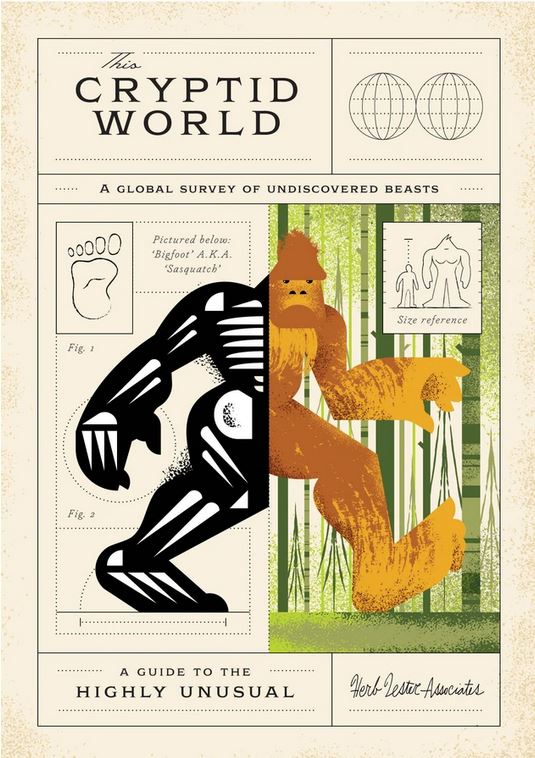 This Cryptid World - A Global Survey of Undiscovered Beasts (Herb Lester Associates: London, 2020); ISBN 9-781916-349506. Card folder containing fold-out double-sided poster guide-book + jackalope tent card, colour & b/w pix.
Available from all good bookstores, and directly from the publisher, Herb Lester Associates, in quantities at: Herb Lester Associates.
Scientists estimate that more than 90 per cent of nature's species have yet to be discovered. With that in mind, this enthralling, unique cryptozoological publication asks you to set aside any scepticism, and allow it be your guide on a fascinating global tour of cryptids - creatures whose existence has yet to be formally substantiated by science.
Shocking desert worms, mystery cats, sea and lake monsters, man-beasts of many kinds, and countless other cryptids have been sighted across the globe, and reports continue. Some accunts seem credulous, others are more authoritative, yet all present us with the same question: can it be true?
This sumptuous fold-out double-sided guide with text by Dr Karl Shuker and illustrations by Brian Rau documents an extremely diverse range of mystery beasts, outlining their characteristics, location, and sightings, all illustrated and charted on a world map. Its large format works equally effectively as a fold-out guide-book or as a double-sided poster, and comes in its own bespoke folder with an additional stand-up 'tent' postcard depicting a jackalope.
| Books | ShukerNature Book 2 | This Cryptid World | Mystery Cats of the World Revisited |
| Home | Biography | Books | Media | CZ Bibliography | Sightings | Links |
---
Copyright © 1998 Dr. Karl P.N. Shuker

Web Design: Scott T. Norman