r. arl . . huker
ooks
From Flying Toads To Snakes With Wings: From the Pages of FATE Magazine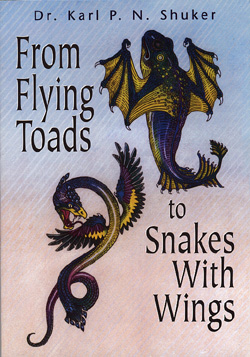 From Flying Toads To Snakes With Wings: From the Pages of FATE Magazine (Llewellyn: St Paul, Minnesota, 1997; ISBN 1-56718-673-4). With a foreword by Mark Chorvinsky. Pb, 222 pp, b/w pics, refs, index.
Available from the publisher and from all good bookshops, including Strange Bookshop at Maryland, U.S.A., as well as from Amazon.com and Amazon.co.uk
In 2005, its long-awaited first UK edition was published by Bounty Books (London, 2005; ISBN 0-7537-1305-5 (pb)).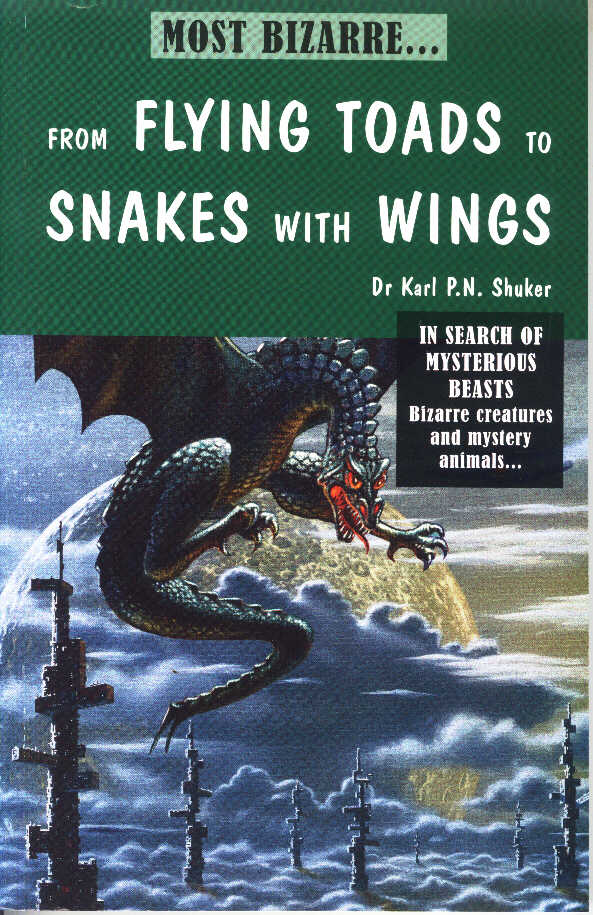 A Czech edition is also available: Od Létajících Zab Po Okrídlené Hady (Garuda: Prague, 1999; ISBN 80-7207-253-6 (hb)).
Embark on a fascinating safari in search of mysterious creatures whose very existence is still unrecognised by science, and which have never before been collected together in one book, yet which could well comprise some of the most dramatic zoological discoveries of the future.
The Sri Lankan horned jackal and the Singhalese devil bird, the horrific bloodsucking 'death bird' of Ethiopia, an enigmatic hairless blue horse from South Africa, winged feathered serpents from Wales and other British mystery beasts, flesh-eating deer and bird-eating sheep, a triple-headed river monster from Bolivia and winged cats from India, monstrous sharks and monster jellyfishes, mystery bears of the world, rainbow dragons and marine elephants, the Beast of Bodalog, giant horned lizards from British Columbia, the real Golden Fleece, Quebec's water dragon, Lake Tahoe's Tessie, and even a living dinosaur or two from the Orient - all have been reported by reliable eyewitnesses and demand attention and investigation by science.
Bringing together a handsome selection of Dr Shuker's popular cryptozoological articles originally published in FATE Magazine and now specially updated and expanded to incorporate the very latest information available, and containing a vast fund of data and illustrations (some of which have not been published in 100-200 years), From Flying Toads To Snakes With Wings is a unique, compelling survey of the world's most elusive and mystifying creatures - the beasts that hide from man.
"Many people call themselves "cryptozoologists," but very few have the requisite credentials. I have always felt that cryptozoology should be a specialty in the field of zoology. Karl Shuker has a doctorate in Zoology and Comparative Physiology from the University of Birmingham. His solid scientific foundation makes him one of those rare individuals who are able to delve into the unknown without losing their bearings. Whether speculating about the possible real-life origin of myths and legends or the identity of bizarre unidentifieds, Dr Shuker is always lucid and compelling. I am always impressed by his ability to dig up material that is new to the cryptozoological community. Just when I think I have heard it all, he comes up with information about a newly discovered life form as strange as anything imaginable. Karl Shuker is more than a scientist, however. He is also a devoted student of strange phenomena with a well-functioning sense of wonder... With this book Karl Shuker has once again made a major contribution to cryptozoological literature without neglecting the non-specialist reader who will find the book accessible, stimulating, and entertaining."
Mark Chorvinsky, quoted from his foreword to this book.

"A fascinating array of mystery animals examined by a renowned zoologist and cryptozoologist. A major accomplishment!"
Terry O'Neill, editor of FATE Magazine, quoted re this book.

"A must read... In this collection of zoological 'maybes', Dr Karl P.N. Shuker sorts out the reality from the fiction. His encyclopedic zoological expertise has resulted in an extremely credible survey of animals which may eventually enter the accepted pantheon of animal species."
Roy P. Mackal, Professor Emeritus, Chicago University, quoted re this book.

"Dr Shuker's knowledge of weird and wonderful creatures is truly encyclopedic, and his enthusiasm for his subject always shines out from his writing. Informative and entertaining."
Janet and Colin Bord, Fortean Picture Library, quoted re this book.

"The advent of a new Karl Shuker book is a cause for excitement amongst the cryptozoological community. For our British readers in particular the publication of this volume is no exception. The slight qualification in the last sentence is because it is essentially a collection of his cryptozoological (and fortean zoological) articles for Fate Magazine - a publication which is hardly ever found in the United Kingdom. Even if, however, you have a complete run of the original articles, you should still buy this book because each chapter has been meticulously updated... this volume should (and probably eventually will) be on the shelves of every reader of this magazine."
Animals and Men, September 1997.

"Dr Karl Shuker, Britain's top cryptozoologist... has done it again. His latest book, From Flying Toads To Snakes With Wings, manages to catch your imagination in the same way as his earlier works and magazine articles... the topic [cryptozoology] is enthralling, particularly when written in the informative yet entertaining style that Dr Shuker does so well. From strange fish to blue horses; mermaids to dragons... they are all here for your delectation with more drawings and pictures than you would have thought possible for such a topic. A great book for the academic cryptozoologist, and a perfect Christmas present for imaginative children from the age of nine to ninety-nine."
Uri Geller's Encounters, Christmas 1997.

"A quick, delightful look at nearly a hundred mystery animals, including the hairless African blue horse, the flying cats of India, the winged and feathered snakes of Wales, and a triple-headed river monster from Bolivia. This collection of bizarre creatures, drawn from Shuker's writings in Fate Magazine, covers the range from the quite-likely to the zoologically impossible. You'll find lots of material here you aren't likely to find anywhere else. Illustrated, too, and a bargain to boot. Another Shuker winner."
Patrick Huyghe, 'The Anomalist Awards For the Best Books of 1997'.

"This wonderful book... covers a wide range of fascinating and bizarre zoological anomalies. This collection of articles... includes such bizarre creatures as the Ethiopian blood-sucking 'Death Bird', meat eating sheep, Chinese blue tigers, giant snakes... and a great deal more besides."
Jon Downes, Sightings, January 1998.

"[Because of] the sheer range of Shuker's interests and expertise... he has succeeded in placing himself apart from all the other monster-hunters and single-issue specialists who search for hidden animals. Nowhere is his versatility better displayed than in this compilation of short articles, which discusses almost one hundred possible mystery animals without mentioning Bigfoot or the Loch Ness Monster once. Instead, Shuker concentrates rewardingly on the subject's marginalia, conjuring a dazzling array of maybe-animals... packed with out-of-the-way information, and anyone interested in cryptozoology will learn something from it."
Mike Dash, Fortean Times, February 1998.

"Without a doubt, cryptozoology is fun. Who could resist tales of a 'flock' of pterosaurs flying in V-formation over the Amazon, the shapeless brown mass which engulfs large sharks in the South Pacific or the Beast of Bodalog - a Welsh water vampire? Once again, Karl Shuker has uncovered a wonderful assemblage of mind-boggling crypto-stories. Translocated from the pages of FATE, this collection of magazine articles explores the newly discovered, the bizarre and the unexplained."
Michael Bright, BBC Wildlife, February 1998.

"Everyone has heard of the Loch Ness monster or the Surrey puma but what about the blood-sucking 'death bird' of Ethiopia, the triple-headed river monster of Bolivia or the living dinosaurs of Asia? These, plus more than 100 strange elusive creatures, all feature in this interesting book by Dr Shuker... This is a fascinating, well illustrated book by a man who knows his subject."
Prediction, April 1998.

"With the rising popularity of UFO conspiracies and alien abductions, good books on low profile subjects such as cryptozoology have become scarce. Many people have relied on standards such as On the Track of Unknown Animals to explore the fringes of fauna, but Karl P.N. Shuker's From Flying Toads To Snakes With Wings is a more budget-conscious option. An accomplished zoologist, Shuker bypasses the hype found in the tabloids and leaves cryptozoological celebrities such as Bigfoot and the Loch Ness monster behind; he concentrates only on the rarest of the rare. Shuker also provides a revealing glimpse at the detective work involved in deciphering the identities of creatures whose existences refuse to be denied, but who have been proclaimed extinct or relegated to myth and folklore. He constructs a formidable argument for the existence of new animal oddities not yet recognized by science, even in the late 20th century, and cites important discoveries from the 1990s. From Flying Toads To Snakes With Wings is sure to pique the curiosity of anyone interested in exotic specimens from the animal kingdom, and doesn't require a major financial investment or a degree in zoology."
Editorial review, Amazon.com
| Books | The Unexplained | From Flying Toads To Snakes With Wings | Mysteries of Planet Earth |
| Home | Biography | Books | Media | CZ Bibliography | Sightings | Links |
---
Copyright © 1998 Dr. Karl P.N. Shuker

Web Design: Scott T. Norman