r. arl . . huker
ooks
Chambers Dictionary of the Unexplained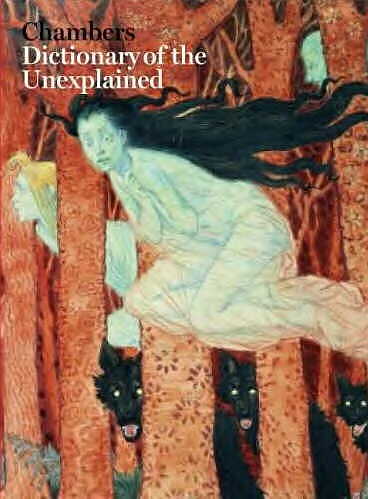 Chambers Dictionary of the Unexplained (Chambers: Edinburgh, 2007) ISBN 978-0-550-10215-7. Editor: Una McGovern. Consultant: Bob Rickard. Contributors include Specialist Contributor for Cryptozoology: Dr Karl P.N. Shuker. Hb, 768 pp, illustrated, index. Available from the publisher and from all good bookshops and online booksellers.
With over 1,300 entries covering everything from pig-faced ladies to poltergeists, and more than 50 panels on remarkable case histories and key subject areas, Chambers Dictionary of the Unexplained is unrivalled in its coverage of unexplained and mysterious phenomena.
Contributions from a team of experts – including specialist consultant and Fortean Times founder Bob Rickard – ensure that each entry is clear and reliable, avoiding the bias, speculation, and misconceptions that often surround such topics as cryptozoology, ghosts, parapsychology, and the occult. In-depth coverage of these and many other subjects is enhanced by hundreds of intriguing photographs and illustrations, including classic images such as the Cottingley Fairies and Loys's Ape.
This rich mixture of fascinating material makes Chambers Dictionary of the Unexplained as absorbing as it is informative – an indispensable reference guide to the mysterious, the paranormal, and the supernatural.
For more information concerning this book, please click here to visit its official website
Contributors: David V. Barrett, Paul Devereux, David Hambling, Peter Lamont, Steve Moore, Alan Murdie, Jenny Randles, Gordon Rutter, Dr Karl P.N. Shuker.
| Books | Monsters | Chambers Dictionary of the Unexplained | Chambers Myths and Mysteries |
| Home | Biography | Books | Media | CZ Bibliography | Sightings | Links |
---
Copyright © 1998 Dr. Karl P.N. Shuker

Web Design: Scott T. Norman