r. arl . . huker
ooks
Star Steeds and Other Dreams - The Collected Poems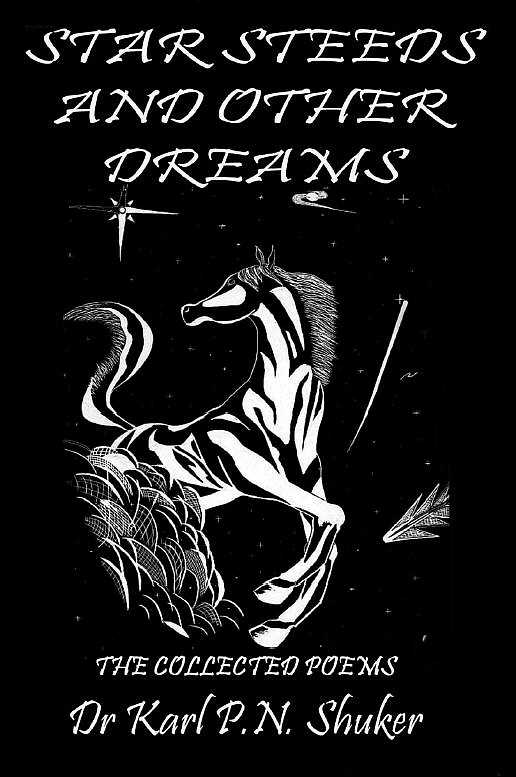 Star Steeds and Other Dreams - The Collected Poems (CFZ Press: Bideford, 2009); ISBN 978-1-905723-40-9. Large-format pb, 230 pp. UK £8.99.
Available from Amazon.com , from Amazon.co.uk , and directly from the publisher in quantities at: www.cfz.org.uk.
Today, Dr Karl Shuker is a world-renowned author on cryptozoology and animal mythology, with over a dozen books and countless articles to his name, but long before his first book on such subjects had been published he was already a prolific poet. Yet in stark contrast to his continuing output of scientific writings, his poetry has remained largely unseen by the outside world – only his family, friends, and selected colleagues have ever read any of his very sizeable collection of poems…until now.
At last, after having been hidden away for many years in a couple of dusty folders, a rich selection of Dr Shuker's poems has finally been compiled, enabling the CFZ Press to present this world-exclusive to his many fans and poetry readers in general. Just as his non-fiction writings have documented a wide range of subjects, so too do Dr Shuker's verses – from the wonders of the natural world, and the mysteries of other worlds far beyond our comprehension, to deeply personal recollections and contemplations of his past, present, and future, his faith in God, and also a series of poems written especially for children.
Welcome to a world of star steeds and nightingales, childhood's end and silent farewells, realms of dreams and shadows, memory's mirror and ghosts from the past, Faerie worlds and flying horses, the voice of the winds and the music of the spheres, roses and rainbows, airports, angels, balloons, butterflies, clowns, dragons, elves, fireworks, monasteries, poppies, Stonehenge, tattoos, UFOs, unicorns, and much much more. Even Nessie, the Loch Ness monster, makes an appearance.
All of these and many others too await your company within the pages of this very different but truly delightful book by Dr Shuker, offering its fortunate readers a fascinating, unique glimpse of an alternate line of literary evolution equal to but hitherto overshadowed by his cryptozoological writings. So let his star steed transport you right now to a magical, enchanting world that only poetry has the power to create, deep within the glorious infinity of our own imagination.
"Karl Shuker is probably best known for being one of the worlds most respected and prolific writers on Cryptozoology, Forteana and the paranormal but few people know he is also a superb poet. Shuker's poems are a wonderful surprise, I picked up the book to have a quick read while drinking a cup of tea and only realised just how engrossed I had become when after 2 hours of reading I realised it had gotten dark outside. The subject matter covered by the poems ranges from nature and cryptozoology (as one might expect from Shuker) right through to religion and the sorrow parting can bring. Each poem is distinctly different and conjure up marvelous and fantastic images in vivid colour. I wholeheartedly recommend this collection to all lovers of poetry and I'm sure it would make a great unexpected Christmas or birthday gift for anyone interested in the natural world, cryptozoology, faith, and the paranormal or anyone in need of inspiration in their life."
Oll Lewis, Animals and Men, Christmas 2009.

"Star Steeds and other dreams, a lovely title for a lovely book of poems by Dr Karl P N Shuker. I have known Karl for more than 30 years, though we've only met a few times. Karl is a zoologist and author of many books on cryptozoology, including one on mystery big cats of the world, the subject of our first meeting being the so- called Beast of Exmoor. The poems cover a wide range of subjects, the natural world, the mysterious other worlds, recollections of his past, present and future, his faith in God and many poems written for children. I have a copy by me at present, to dip into as and when and I find I turn to it more and more. It is my sort of writing. Thanks Karl. The book is around 230 pages, a paperback, published by CFZ Press, Myrtle Cottage, Woolsery, Bideford, Devon. If it is not in your local shop contact Jonathan Downes at the above address for a copy. I know you will be delighted."
Trevor Beer, Western Morning News, 8 February 2010.

"I have been enspired by poetry for many years and had no idea that Karl wrote such in depth, soul moving poems. Trust me! Star Steeds and Other Dreams is full of a diverse range of poems collated into 7 different categories. One of Karl's poems from this book which I am honored to be reading this year at the cenotaph in Wednesbury is 'Fields of Remembrance'. If like myself you are inspired by good poetry, then Star Steeds and Other Dreams is the gem of a book well worth adding to your collection."
Rob Belcher, Amazon.co.uk, 9 February 2010.

"I have been a follower of Karl Shuker's books for a long time, and recently have had the pleasure of making his acquaintance. To gain a further insight into his personality and young life was a rare and golden opportunity. His poems are sensitive and well considered, and surely reflect the inner thoughts of a fertile and creative mind. It is here we see the inquisitive, investigative streak that surely propelled him into his later Cryptozoological career. I wholly and thoroughly enjoyed this book and its poems, seeing the mind of an extraordinary man in a new way. "
Donald A. Morris, Amazon.com, 25 March 2010.
| Books | Dinosaurs and Other Prehistoric Animals on Stamps | Star Steeds and Other Dreams | Karl Shuker's Alien Zoo |
| Home | Biography | Books | Media | CZ Bibliography | Sightings | Links |
---
Copyright © 1998 Dr. Karl P.N. Shuker

Web Design: Scott T. Norman