r. arl . . huker
ooks
Karl Shuker's Alien Zoo - From the Pages of Fortean Times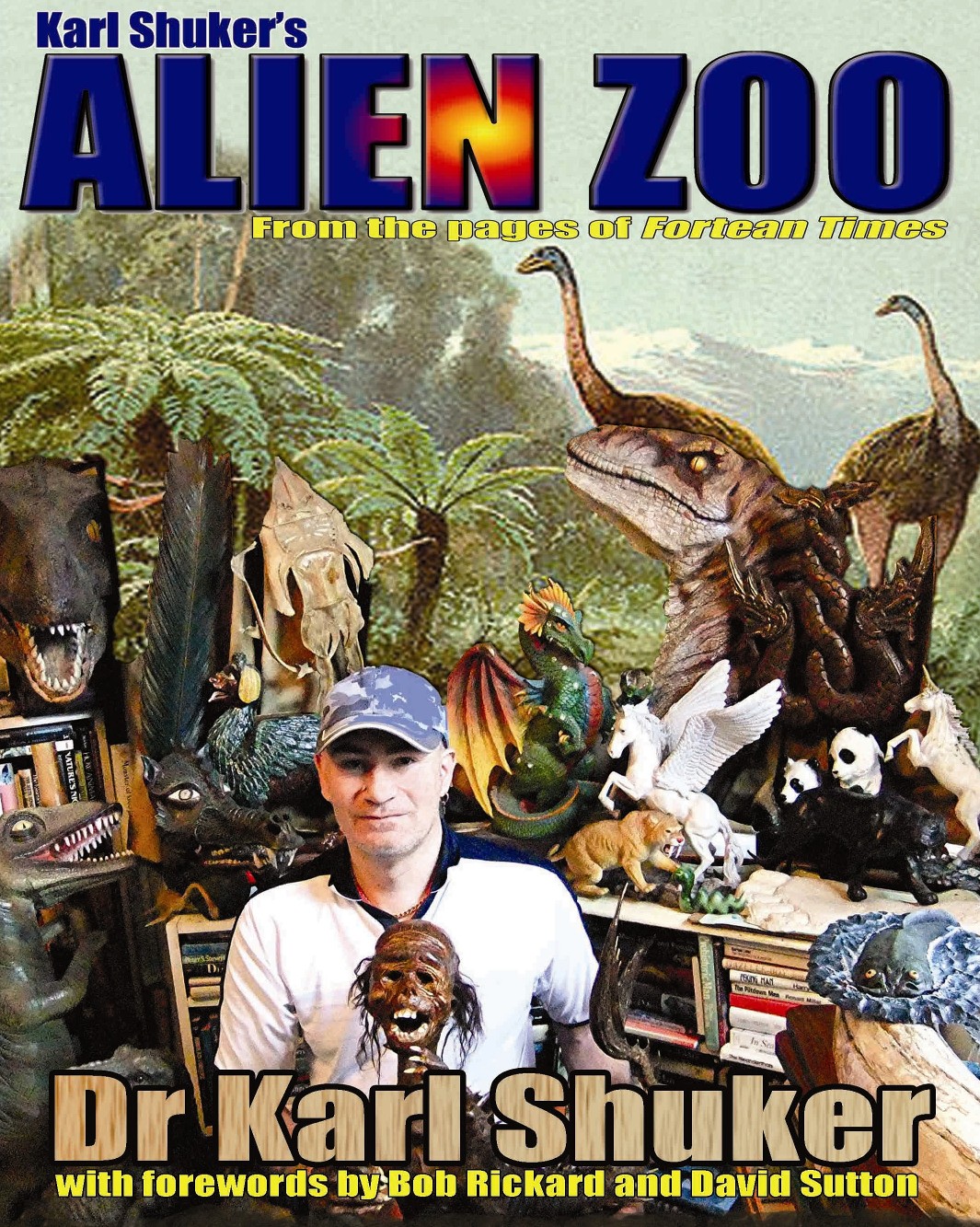 Karl Shuker's Alien Zoo - From the Pages of Fortean Times (CFZ Press: Bideford, 2010); ISBN 978-1-905723-62-1. Large-format (Crown Quarto) pb, 392 pp. UK £14.99.
Available from Amazon.com , from Amazon.co.uk , and directly from the publisher in quantities at: www.cfz.org.uk.
Ever since 1997, 'Alien Zoo', Dr Karl Shuker's cryptozoology news column has been a regular feature in Fortean Times – the world's premier magazine devoted to unexplained phenomena of every kind, and inspired by the writings and researches of scientific iconoclast Charles Fort. Dr Shuker has also penned many longer, more detailed 'Lost Ark' articles for Fortean Times, surveying an immense diversity of controversial and newly-revealed creatures worldwide. Today, not only are both of these long-running FT series hailed as cryptozoological classics but now, for the very first time, an extensive compilation of each of them has been meticulously prepared by Dr Shuker, incorporating numerous remarkable illustrations (including many rare or previously-unpublished examples), and presented here in book form.
So if the weather outside is wet and windy, or even if it's fine but you've nowhere exciting to go, how would you like to visit a mesmerising realm of monsters and mystery beasts from the comfort and safety of your very own armchair?
Where can you meet alien big cats and snake-headed dogs, resurrected thylacines and death worms from the Gobi, nightgrowlers and goatsuckers, lake monsters a-plenty and sabre-tooths alive-o, paradise parrots and rainbow serpents, glowing lizards and donkey-eared deer, sachamamas and curupiras, whale-chomping sea monsters and murderous jellyfish, giant rats and New York sqrats, rock-painted mermaids and unicorn bones, river dragons and elephant birds, blood-sweating horses and squids from the swamps, man-beasts, müshmurghs, and mapinguaries, didis, dodos, dodus, and dobhar-chús, orang pendeks and albatwitchers, Nessie teeth, yeti hairs, and archangel plumes, pouched skunks and pig ponies, duendes and cureloms, horse-eels and globsters, flying snakes and cats with wings, scratch monsters and shell monsters, mystery quails from New Zealand and mini-men from Maine, tigers in Tanzania and lions in Chile, sex-mad super-otters and cow-snatching tiger trees, seal mothers, ghoul cats, mouse-whales, and other Icelandic exotica, the lost songbirds of Audubon and new species from New Guinea, mokele-mbembes, kuil kaaxs, nittaewos, banakons, Saharan crocodiles, Birdzilla...and who knows what else too?
In Karl Shuker's Alien Zoo, that's where! So what are you waiting for? Its gates are still open, so let's go inside - right now!
Karl Shuker's Alien Zoo was voted one of 2010's 'Top 20 Cryptozoology Books' by Cryptomundo - the world's foremost cryptozoological website
"Dr. Karl Shuker's latest book is a compilation of his regular columns in Fortean Times magazine, with some updates and "bonus features" thrown in. I've had it for a week and have read it twice through. Hundreds of entries in this fascinating book cover everything from surviving thylacines to new lizards to alleged pterodactyl-type creatures. But the animals themselves are not the whole of the book. Shuker's interests in folklore, culture, and art lead him down many interesting pathways. He looks at everything from an unknown bird shown in a Gauguin painting to the mix of exotic feathers, fakes, and the occasional palm frond that have been passed off as feathers from the wings of angels...Karl's collection, like all good cryptobooks, leaves us with some solutions and some more mysteries. We now know a famous sketch of a lake monster in Russia was just support for a tall tale. We wonder what became of animals once presumed to exist, such as Washington's eagle, a giant bird shot and described by Audubon himself but hardly reported since....The book sometimes leaves you wanting more, but it will not disappoint you. It's very well worth your money."
Matt Bille, Matt's Sci/Tech Blog, 12 November 2010.

"Peruvian mystery cats, giant newts, mermaids, sea serpents, unicorns, lionfish and much, much more. For all those who are interested in the strange creatures that may or may not still be alive on this wonderful planet, the man to turn to for information is my old friend Dr. Karl P N Shuker who resides in the West Midlands. Now we have Karl's latest book Alien Zoo, a remarkable 390 page paperback. With a Foreword by David Sutton, editor of the Fortean Times magazine, the book really does hold the reader's interest. From its gripping text to its numerous black and white illustrations it leaves us wanting to know more about this undeniably strange planet we spin through space on."
Trevor Beer, Western Morning News, 20 December 2010.

"You will certainly enjoy Karl's latest book. It's an enormous tome, packed full of erudite reportage on monsters and enigmatic critters worldwide. Alien Zoo gathers together all of Karl's columns of that name which have graced the pages of Fortean Times since 1997 - more than a decade's worth of news, commentary, analysis (and all-important follow-ups) by one of cryptozoology's leading lights. Fully indexed, this is a must-have for anyone interested in mystery beasts."
Richard Holland, Paranormal Magazine, February 2011.

"Karl Shuker stands alone in the cryptozoological field. He is, without a doubt, the most knowledgeable and respected British cryptozoologist in the world today, and possibly the only person I would ever trust to give me an honest answer to any questions I may have on the subject – and no, he didn't pay me to say that. The Shukes 'Alien Zoo' column in the popular Fortean Times magazine is read avidly worldwide, not only for its exceedingly interesting and diverse subject matter, but also for the unique and captivating way Karl manages to enchant whilst downloading information directly into the brains of his beguiled audience – and within this seemingly innocent book, these tales of unknown 'monsters', mythical mermaids and out of place marsupials truly are brought to life. For readers already familiar with Dr. Shuker's work – this book is not his best, nor is it his worst. This book simply has the same high standard of writing and description of each individual article, case or report that is evident in everything he does, and evoking that well known mantra from the lips of us poor mortal researchers 'When I grow up, I wanna be Karl Shuker'."
Kirst D'Raven, Phenomena Magazine, April 2011.

"This book is an excellent introduction to cryptozoology as well as a feast for people already interested in the subject...That complexity [of cryptozoology] calls for expert guidance, and Shuker is fully equipped to provide it, with a Ph.D. in zoology, membership in learned societies, and long fascination with and work in cryptozoology. Those credentials do not necessarily entail good judgment, of course, and in this vital respect Shuker is very trustworthy indeed. He is determinedly skeptical and his assessments are based squarely on empirical evidence. In cryptozoology as in anomalistics more broadly, the rarest and most desirable resources are compendia that can be relied upon to be factually accurate and judicious in making judgments. In those respects, I rate Shuker's works as highly as I (and others, of course) rate the works of Jerome Clark. As to specifically cryptozoology, Shuker's work inevitably reminds one of that of Bernard Heuvelmans, often described as the founder of cryptozoology and also a zoologist by orthodox training. Heuvelmans broke barriers and displayed the bravado needed by those who bring into existence some new institution or subject; Shuker displays the qualities needed by the successors who bring more order and judiciousness to the field...Alien Zoo offers the pleasure of browsing in the knowledge that one will be able to enjoy it over a long time: Each of the "topic" chapters is an independent essay, and the collections of news snippets in each year or set of years can be taken in one or in several gulps...Over the years I've read quite widely in cryptozoology, yet I found new specifics here as well as welcome interpretations of more familiar subjects, for instance on the "mystery cats" reported from all sorts of places around the world. New to me were such things as angel feathers, bacteria reproducing in clouds, or the possible relationship between fruit bats and primates—the latter highly instructive about the complex task of tracing evolutionary lineages even in the era of DNA analysis. I recommend Alien Zoo highly and without reservation."
Prof. Henry Bauer, Journal of Scientific Exploration, Vol. 25, No. 3, pp. 609-610, 2011.

"Karl is a rare creature himself: an independent yet professional zoologist. For more than two decades now, he has kept up a flow of columns and articles in this magazine and here, in a handy and expanded form, is a selection of those from his first 16 years as one of FT's regular columnists...It's all here, brought up to date through Karl's diligent and ongoing research. The result is an informal and profusely illustrated collection which will surprise and delight anyone, young or old, who is fascinated by nature's mysteries."
Fortean Times, May 2012.
| Books | Star Steeds and Other Dreams | Karl Shuker's Alien Zoo | The Encyclopaedia of New and Rediscovered Animals |
| Home | Biography | Books | Media | CZ Bibliography | Sightings | Links |
---
Copyright © 1998 Dr. Karl P.N. Shuker

Web Design: Scott T. Norman