r. arl . . huker
ooks
Fortean Times Presents Monster Hunters: In Search Of Unknown Animals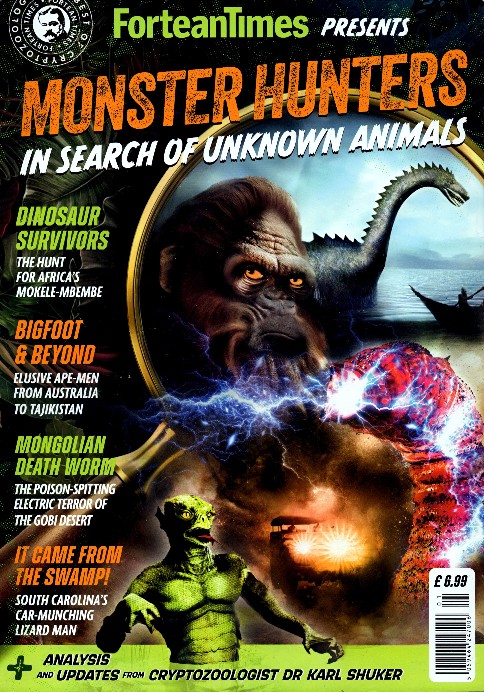 Fortean Times Presents Monster Hunters: In Search Of Unknown Animals (Diamond Publishing Limited: London, 2023) ISBN 5059464247006. Edited and compiled by David Sutton, with an Introduction by Dr Karl Shuker. Contributors of the 12 major articles and inset sub-articles include Neil Arnold, Loren Coleman, Edward Crabtree, Adam Davies (two articles), Richard Freeman, Martin Gately, Sharon Hill, Ruby Lang, Stu Neville, Todd Prescott, Ben Radford, Richard Svensson, Michael Williamsand Dr Karl Shuker. Pb, 80 pp. Available directly from the publisher at Fortean Times Shop, as well as all good bookstores and newsagents.
This official Fortean Times bookazine contains 12 classic full-length cryptozoology-themed articles published by FT down through the years. Some of these are the result of field expeditions, others the product of bibliographical researches. Moreover, as its in-house cryptozoologist for over 30 years now, Dr Shuker was invited by FT to prepare not only a general introduction to this bookazine but also a concise summary/update for each of its articles, thereby fulfilling much the same role as performed by the late Arthur C. Clarke for each episode in his famous 1980s TV show Arthur C. Clarke's Mysterious World. The cryptozoological subjects documented are: bigfoot, British mystery cats, Loch Ness monster, mokele-mbembe, Mongolian death worm, Nandi bear, Russian yeti, Scape Ore Lizard Man, Swedish lindorms, Tajikistan ghul, Trunko, and yowie. All of the articles are reproduced in all of their original full-colour glory, which together with the introduction yields an 80-page bookazine that surveys a vast, global range of cryptids in what is unquestionably one of the most engrossing crypto-compendia of recent times.
To provide some additional ideas of what to expect, here is FT's own publicity blurb for Monster Hunters:
"From the archives of FORTEAN TIMES, the world's foremost journal of strange phenomena, comes a new collection exploring the world of cryptozoology – the search for unknown animals.
"Join us on expeditions to far-flung Mongolia to find the dreaded DEATH WORM of the Gobi Desert, to the Congo in search of a LIVING DINOSAUR and to Tajikistan on the trail of TERRIFYING APE MEN. Explore the wilds of the USA on the track of BIGFOOT and the South Carolina LIZARD MAN, or venture to the marshes of Sweden to investigate sightings of GIANT SERPENTS. And sign up for closer-to-home hunts for NESSIE and BRITAIN'S MYSTERY BIG CATS, including the infamous 'Essex Lion'. MONSTER HUNTERS takes readers on an exciting round-the-world quest to track the most amazing, elusive and sometimes unbelievable crypto-creatures. Plus, the collection includes an introduction and updates and commentary on each article by renowned cryptozoologist DR KARL SHUKER."
| Books | Guinness World Records - Wild Things | Fortean Times Presents Monster Hunters: In Search Of Unknown Animals | Of Monsters and Miracles (CD ROM format) |
| Home | Biography | Books | Media | CZ Bibliography | Sightings | Links |
---
Copyright © 1998 Dr. Karl P.N. Shuker

Web Design: Scott T. Norman