r. arl . . huker
ooks
Journal of Cryptozoology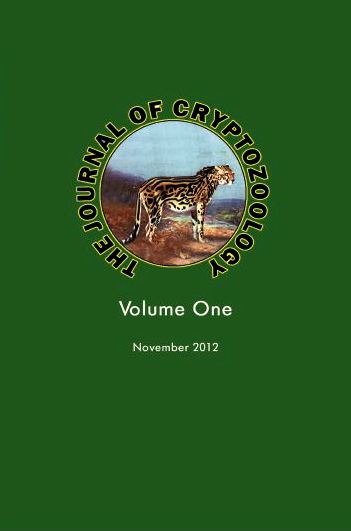 Journal of Cryptozoology - launched in 2012, edited by Dr Karl P.N. Shuker, and published annually by CFZ Press.
Following the demise of Cryptozoology (published by the now-defunct International Society of Cryptozoology), there has been no peer-reviewed scientific journal devoted to cryptozoology for quite some time. Consequently, the Journal of Cryptozoology has been launched to remedy this situation and fill a notable gap in the literature of cryptids and their investigation. For although some mainstream zoological journals are beginning to show slightly less reluctance than before to publish papers with a cryptozoological theme, it is still by no means an easy task for such papers to gain acceptance, and, as a result, potentially significant, serious contributions to the subject are not receiving the scientific attention that they deserve. Now, however, they have a journal of their own once again, and one that adheres to the same high standards for publication as mainstream zoological periodicals.
To that end, a distinguished peer review panel has been assembled (and has been greatly extended in recent months), whose members remain anonymous as is traditional and necessary for the independent evaluation of submissions to the journal, but which consists of some of the world's most eminent zoologists and associated researchers in their respective fields of technical expertise. And I was honoured to be invited by the journal's publisher, the CFZ Press, to become Editor - an invitation that I was delighted to accept.
It is planned that each volume of the Journal of Cryptozoology should contain three to four papers (depending upon their combined total length). These can be discussion or review articles concerning a given cryptozoological subject; research-related papers; or field reports. Full details concerning the required presentation style for submissions, preceded by an advisory section detailing important issues to consider when preparing a cryptozoological paper, can be found at the end of this journal.
It is always exciting to be part of a major new development, and I believe that the Journal of Cryptozoology marks a major new development in the advancement and mainstream awareness of cryptozoology. I hope that you will too.
Dr Karl P.N. Shuker, The Editor, Journal of Cryptozoology
Volume 2 of the journal was published in December 2013, and both volumes can be purchased directly on the journal's dedicated website at Journal of Cryptozoology.





| Books | Of Monsters and Miracles (CD ROM format) | Journal of Cryptozoology | Mystery Cats of the World |
| Home | Biography | Books | Media | CZ Bibliography | Sightings | Links |
---
Copyright © 1998 Dr. Karl P.N. Shuker

Web Design: Scott T. Norman