r. arl . . huker
ooks
Cats of Magic, Mythology, and Mystery - A Feline Phantasmagoria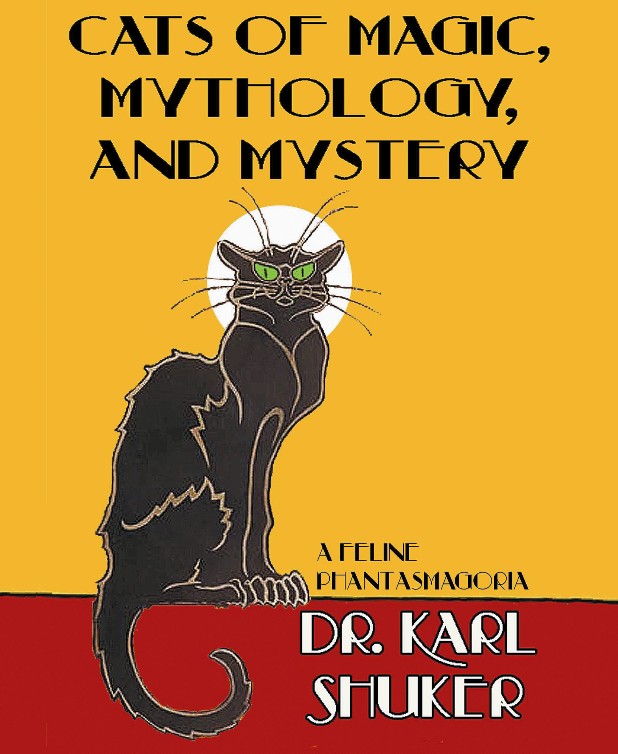 Cats of Magic, Mythology, and Mystery - A Feline Phantasmagoria (CFZ Press: Bideford, 2012); ISBN 978-1-909488-03-8. Extra-large coffee-table format, pb, illustrated throughout in full colour, 322 pp. UK £24.99
Available from Amazon.com , from Amazon.co.uk , from all good bookstores, and directly from the publisher, CFZ Press, in quantities at: www.cfz.org.uk.
Gathered together for the very first time between the covers of a single volume, be prepared to be thoroughly amazed and totally captivated by a spellbinding array of truly extraordinary, exceptional cats of every imaginable – and unimaginable - variety.
Surveying an eclectic spectrum of feline anomalies existing both within and far beyond the perimeters of cryptozoology, here are homing cats and demon cats, king cheetahs and woolly cheetahs, ligers and leopons, winged cats and horned cats, belligerent nundas and evanescent marozis, the mythology of the tailless Manx cat and the origins of Lewis Carroll's Cheshire Cat, latter-day sabre-tooths and feline deities from around the world, dream cats, snow cats, and psychic cats, displaced panthers and out-of-place pumas, Janus cats of the double visage and the lost constellation of Felis, marsupial lions and Queensland tigers, green kittens and Runcible Cats, albinistic leopards and melanistic tigers, servalines, cheetalines, aquatic yaquarus, even a cat-headed serpent or two – and much, much else besides.
The result is a unique clowder of caterwauling curiosities all too frequently neglected or sorely restricted in previous works of feline non-fiction, but greatly deserving of ailurophilic attention, and lavishly supplemented throughout by almost 300 remarkable full-colour and b/w archive illustrations, including many rare and never-before-published images, and several sumptuous colour paintings prepared specifically for this book by leading artists in their fields.
So let Dr Karl Shuker be your guide as you journey through a feline phantasmagoria wholly unlike any cat book previously published - celebrating the magic, mythology, and mystery encompassing one of our world's most inscrutable and fascinating mammalian dynasties: Felidae, the genealogy of Grimalkin.
| Books | The Encyclopaedia of New and Rediscovered Animals | Cats of Magic, Mythology, and Mystery | Mirabilis |
| Home | Biography | Books | Media | CZ Bibliography | Sightings | Links |
---
Copyright © 1998 Dr. Karl P.N. Shuker

Web Design: Scott T. Norman