r. arl . . huker
ooks
Almanac of the Uncanny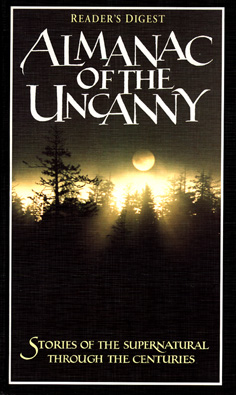 Almanac of the Uncanny (Reader's Digest (Australia) Pty Limited: Surry Hills. New South Wales, 1995; ISBN 0-86438-910-8). Major Consultants and Contributors: Hilary Evans, M.-L. Claflin, Dr. Lola Sharon Davidson, Harry Edwards, Professor Arthur J. Ellison, Eleanor O'Keefe, Professor G.R. Quaife, Dr. Karl P.N. Shuker, Dennis Stacy. Hb, 448 pp, colour and b/w pics, refs, index. Available from the publishers and all good bookshops.
British edition also available: Exploring the Unknown (Reader's Digest Association Limited: London, 1999; ISBN 0-276-42445-X (hb)).
The format of this extensively-illustrated popular history of the occult is that of an almanac, whose contents consist of short accounts of peoples' experiences with the paranormal down through the ages - close encounters with mysteries that seem to defy rational explanation, arranged chronologically and interspersed with boxed features dealing with specific topics.
For instance: Country folk in Ireland have for centuries told stories of eerie water horses that haunt their lakes and sometimes venture to shore - stories that could once, perhaps, have been dismissed as old wives' tales... until that May afternoon in 1960, when just such a beast, long-necked with an undulating body, was seen in Lough Ree, by three Dubin priests out fishing. Also: The Dogon people of Mali believe that they were civilised by visitors from Sirius, brightest star in the heavens. A folk tale? Perhaps... but the Dogon have long known that Sirius has a companion star invisible to the naked eye. How could they know this?
Readers who like their world to be spiced with a little mystery, and their mysteries to be spiced by scientific inquiry, will find this new book from Reader's Digest makes fascinating reading. What are the facts about the Bermuda Triangle? Was James Dean's racing car cursed? What was the secret of Fulcanelli, the French alchemist who spent years seeking the elixir of youth and was said to have looked like a man of 50 when he was 100 years old?
There are stories about ghostly hounds... about precognition (did Abraham Lincoln foresee his assassination in a dream?)... about prophets like Nostradamus, who predicted the advent of Hitler more than 300 years before his time... about uncanny coincidences... about clairvoyants like the Dutchman Gerard Cloiset, who helped police solve crimes in half a dozen countries.
Every story in this book has been critically scrutinised, exposing charlatans and frauds where they are involved. And if, after all the rational explanations have been exhausted, there are still some riddles unsolved, the book asks only that its readers bring an open mind to this journey into the unknown.
Contributors: Geremie R. Barmé, Keith Basterfield, Arthur S. Berger, Bi11 Chalker, David Christie-Murray, Jerome Clark, Professor Frank Clarke, Loren Coleman, James Cowan, Paul Devereux, Nevill Drury, Professor Ivor Grattan-Guiness, Dr Keith M.T. Hearne, Isabela Herranz, Diana Hill, Michael Hough, Patrick Huyghe, Professor H.J. Irwin, Dr W.J. Jobling, Professor Alice Beck Kehoe, Katherine Kerr, David Lorimer, Kevin McClure, Professor Kiyohiro Miura, Steve Moore, Mary Patterson, Reverend Canon Michael Perry, Leon Petchkovsky, Peter Ross, Jeff Saward, Judith Simpson, Dr Jean Gelman Taylor, Jennifer Westwood, Dr Sue Wiles, Pip Wilson.
| Books | Secrets of the Natural World | Almanac of the Uncanny | Fortean Times Weird Year 1996 |
| Home | Biography | Books | Media | CZ Bibliography | Sightings | Links |
---
Copyright © 1998 Dr. Karl P.N. Shuker

Web Design: Scott T. Norman