r. arl . . huker
ooks
Still In Search Of Prehistoric Survivors - The Creatures That Time Forgot?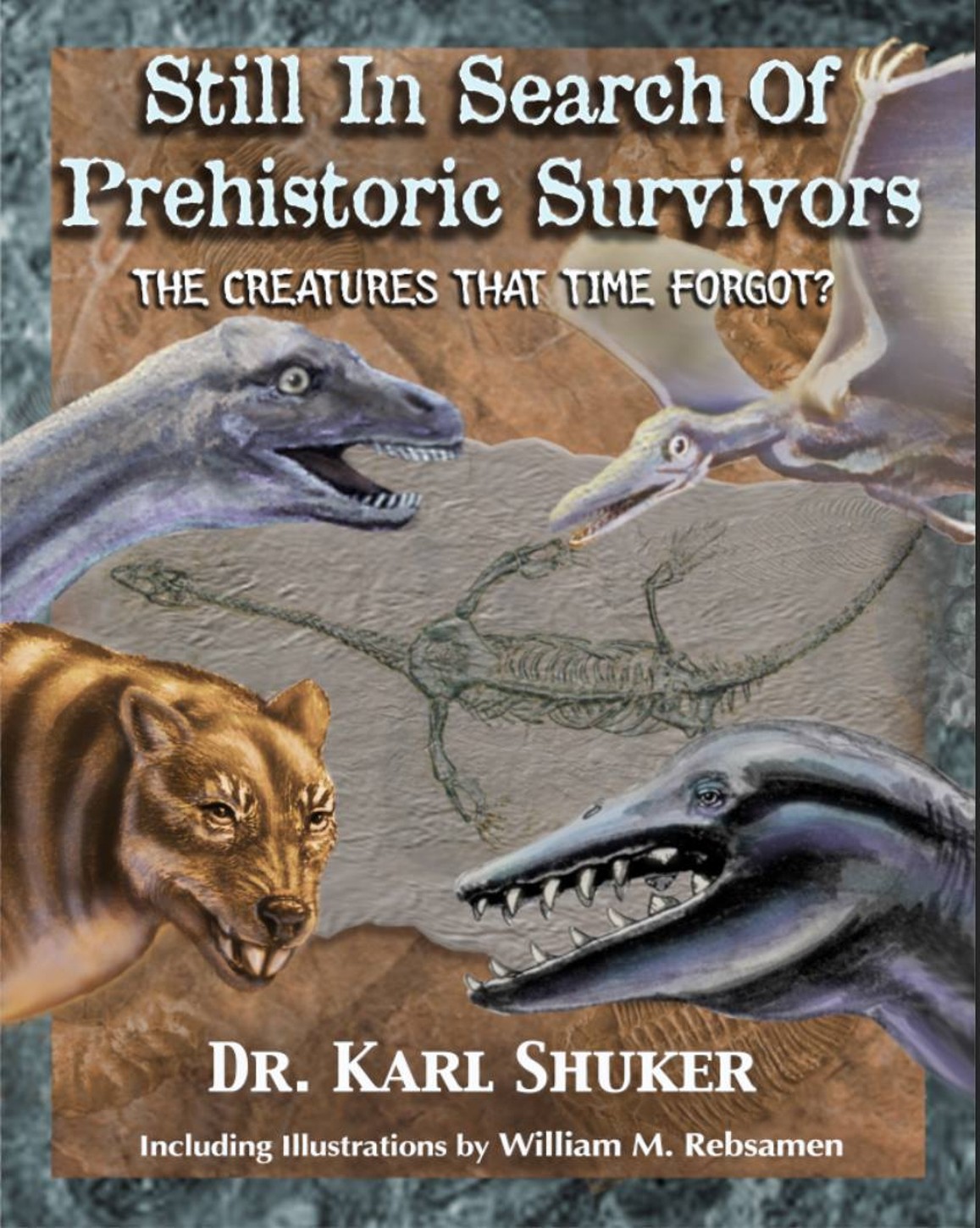 Still In Search Of Prehistoric Survivors - The Creatures That Time Forgot? (Coachwhip Publications: Greenville, 2016); ISBN 978-1616463908. Hb, 612 pp, colour & b/w pix.
Available in hardback from Amazon.com , from Amazon.co.uk , from all good bookstores, and directly from the publisher, Coachwhip Publications, in quantities at: http://www.coachwhipbooks.com/
It has been 21 years since the original publication back in 1995 of In Search of Prehistoric Survivors, considered by many to be Dr Karl Shuker's finest cryptozoological volume. Not surprisingly, then, in subsequent years there has been a growing, persistent clamour among his numerous fans worldwide for him to prepare a new, updated edition. Now, at last, he has done so - and what an update it is!
At over 600 pages long, with a word count of almost 260,000, more than 300 colour and b/w illustrations (including many stunning renditions plus spectacular cover artwork by acclaimed crypto-artist William M. Rebsamen), and a brand-new foreword penned by fellow crypto-chronicler Michael Newton, this is both a massively-expanded new edition of the original volume and a valid stand-alone book in its own right, because it contains many entirely new cryptids as well as updates for all of those previously included here. The result is the most comprehensive documentation and analysis ever published of those diverse mystery beasts that at one time or another have been postulated to be bona fide prehistoric survivors.
But if these elusive beasts do indeed exist, could they really be creatures that time forgot? From sea serpents and lake monsters to living non-avian dinosaurs and surviving pterodactyls, from bunyips and behemoths to Nandi bears, devil-pigs, thunderbirds, thylacoleonids, and many many more, read Dr Shuker's meticulous, objective, and always scrupulously scientific assessments of each and every cryptozoological case presented in this fascinating book, and judge for yourself.
| Books | Here's Nessie! | Still In Search Of Prehistoric Survivors | ShukerNature Book 1 |
| Home | Biography | Books | Media | CZ Bibliography | Sightings | Links |
---
Copyright © 1998 Dr. Karl P.N. Shuker

Web Design: Scott T. Norman