r. arl . . huker
ooks
The Lost Ark: New and Rediscovered Animals of the 20th Century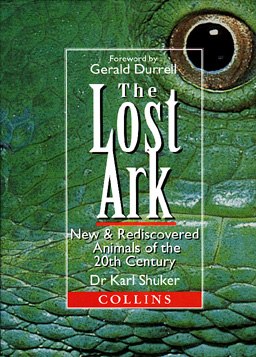 The Lost Ark: New and Rediscovered Animals of the 20th Century (HarperCollins: London, 1993; ISBN 0-00-219943-2). With a foreword by Gerald Durrell. Hb, 287 pp, colour & b/w pics, appendix, refs, index.
GREAT NEWS!!! In May 2002, the long-awaited, fully-updated, greatly-expanded second edition of The Lost Ark was published! It is entitled The New Zoo; click here for details!!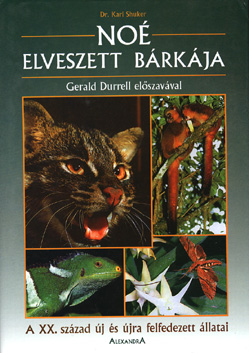 Hungarian edition also available: Noé Elveszett Bárkája: A XX. század új és újra felfedezett állatal(Alexandra Kiadója: Budapest, 1996; ISBN 963-367-119-1 (hb)).




At the beginning of the 20th Century, scientists and laymen alike appear to have been peculiarly confident that the world had been thoroughly explored and most of its creatures named and documented. Few, if any, large animals still awaited discovery. The scientific unveiling of the giraffe-like okapi in 1901 was one of the earliest of this century's discoveries to shake this belief. But many consider it to be the last great find, and view the rediscovery of extinct animals to be as likely as the alchemic conversion of iron into gold.
Since 1901, however, a whole host of new and rediscovered creatures has turned up to contradict these views - including a giant 7-foot-long forest hog from Africa, a colossal Indonesian monitor lizard called the Komodo dragon, the lobe-finned coelacanth fish resurrected from 64 million years of supposed extinction, the incredible megamouth shark, deep-sea tube-dwelling worms over 8 feet tall with huge red tentacles resembling strange alien flowers, plus the extraordinary Vu Quang ox discovered in Vietnam during the 1990s. And discoveries continue to be made today.
This is the very first book to be devoted to the spectacular zoological discoveries and equally amazing rediscoveries of the 20th Century. It also contains an exhaustive bibliography as well as the only comprehensive collection of colour and b/w photographs of these species ever published, and provides good reason for believing that our world still holds many more animal surprises in store.
"This fascinating and encouraging book should be part of every naturalist's library to give them hope that one day they themselves may make a wonderful discovery of a new species."
Gerald Durrell, quoted from his foreword to this book.

"The urge to explore and discover is in all of us. This is the perfect book to satisfy that urge."
Dr. Desmond Morris, quoted from this book's flyleaf.

"What could be more exciting than discovering a species? This book is full of fascinating records of new and rediscovered species."
Lady Philippa Scott, quoted from this book's flyleaf.

"A fascinating catalogue of sightings and speculation about the world's rarest species."
New Scientist, 6 November 1993.

"A book not only to excite zoologists, but to thrill us all."
Wild About Animals, January 1994.

"The Lost Ark is an indispensable reference on the latest additions to the known fauna of our planet."
J. Richard Greenwell, BBC Wildlife, February 1994.

"Shuker writes elegantly and well, and there is plenty here to keep even the least scientific Fortean happy for hours. For The Lost Ark is that rarity, a genuinely enthralling and uplifting book. What more could one ask?"
Mike Dash, Fortean Times, February-March 1994.

"The release of a new book by British cryptozoologist Dr. Karl P.N. Shuker is an occasion for celebration by cryptozoologists internationally [and] his new work, The Lost Ark, is his finest to date, and should prove to be his most popular. Dr. Shuker has created what amounts to a one-volume encyclopedia of this century's most incredible discoveries and rediscoveries... This cryptozoological classic will forever put to rest the notion that there have been few zoological surprises in this century, and it clearly demonstrates that there is most certainly a wealth of new creatures to be discovered and rediscovered in the 21st century."
Mark Chorvinsky, Strange Magazine, Spring 1994.

"A logical successor to the author's Mystery Cats of the World (1989) and Extraordinary Animals Worldwide (1991) as it shows how thin is the line separating cryptozoology from established fact."
Professor John L. Cloudsley-Thompson, The Biologist, April 1994.

"Zoologist Shuker has written the most valuable cryptozoological book in years... Sources are given in all cases. A superb contribution."
Matthew Bille, The Cryptozoology Newsletter, April 1994.

"A myriad of facts... can be found within this interesting and informative source. Arranged phylogenetically... black-and-white as well as coloured plates, depicting the animals, can be found throughout the book. A 17-page bibliography and a combined common, scientific-name index concludes the volume."
George H. Bell and Diane B. Rhodes, A Guide to the Zoological Literature: The Animal Kingdom (Libraries Unlimited: New York, 1994).

"I've often wondered what my life would have been like if I had read books like The Lost Ark at an early age. They would have changed my perspective of our planet from one that is solidified and fairly inflexible to one of continual discovery... Dr. Shuker's encyclopedic contribution puts an end to the fallacy that all the larger animal species on earth were discovered long ago... every library, from secondary schools through college and beyond, should offer this book."
Dr. Robert R. Hieronimus, Fate, February 1995.
| Books | Extraordinary Animals Worldwide | The Lost Ark | Dragons |
| Home | Biography | Books | Media | CZ Bibliography | Sightings | Links |
---
Copyright © 1998 Dr. Karl P.N. Shuker

Web Design: Scott T. Norman