r. arl . . huker
ooks
Ancient Worlds, Ancient Mysteries: Legends of Many Millennia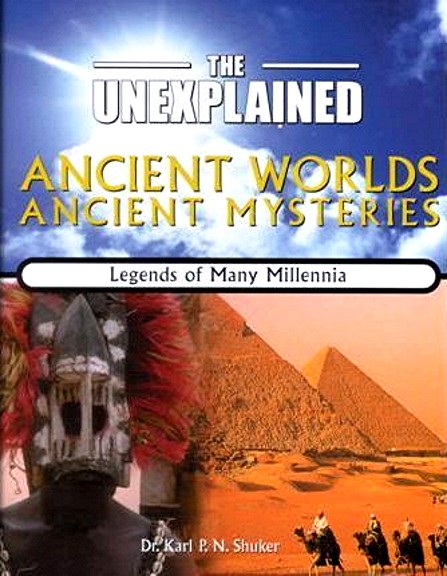 Ancient Worlds, Ancient Mysteries: Legends of Many Millennia Chelsea House: New York, 2001; ISBN 0-7910-6077-2). Hb, 48 pp, colour and b/w pics, index. £4.99. Available from the publisher and from all good bookshops, including Amazon.com and Amazon.co.uk online.
The world of the unexplained has fascinated and captured the imagination of countless people over the centuries. Aliens from other worlds, religious miracles, and mysterious monsters form the basis of just some of the baffling stories that have been told throughout history. Now you too can experience the chilling, astonishing, and enigmatic phenomena that nature, the extraterrestrial, and the paranormal can offer through the accounts in this enthralling book.
Ancient Worlds, Ancient Mysteries seeks to answer the tantalising questions behind the enduring mysteries of the Lost Ark of the Covenant and the Pyramids of Ancient Egypt, the sightings in Africa of dinosaurs and in Asia of man-beasts, as well as supernatutal powers, unnatural phenomena, and many other abtruse enigmas of the unexplained in these two great continents.
Aimed at a young-adult audience, this book is a thematic compendium of specially-chosen excerpts reprinted from The Unexplained that deal specifically with African and Asian mysteries.
| Books | Historic Realms of Marvels and Miracles | Ancient Worlds, Ancient Mysteries | Lost Worlds and Forgotten Secrets |
| Home | Biography | Books | Media | CZ Bibliography | Sightings | Links |
---
Copyright © 1998 Dr. Karl P.N. Shuker

Web Design: Scott T. Norman